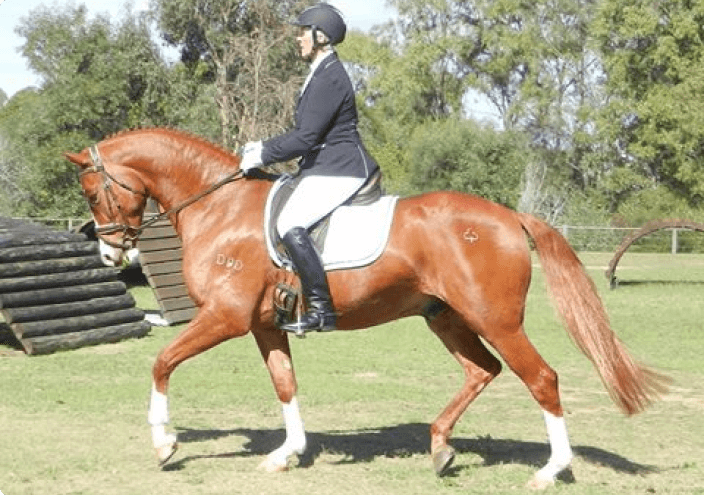 Steffi Stevens riding her beautiful home bred horse, Courtland's Cadman
Where do you live?
Coolana in the Marburg range on the edge of the Lockyer Valley
When and why did you start riding?
I started as a child, in Hamburg, Germany where I grew up. I was lucky enough to learn a lot about dressage from some really fantastic trainers in Germany, and I didn't emigrate to Australia until I met my husband (an Aussie) in my late twenties.
Favourite horse/horses?
I had a really super horse twenty years ago, a gelding by Herr Dominator, called Domspatz. He was a once in a lifetime horse, with extraordinary talent for collection and the advanced work. He was Reserve Champion at the Queensland Dressage Championships (runner up to another Herr Dominator I rode, the black mare Dankeschon) at his first major competition. Sadly we lost him to a colic shortly after that.
Describe a typical day for you:
In my business I take horses for dressage education and competition, I coach pupils, and my husband and I run a small warmblood stud, standing the stallion BJ Kaneto Casanova. We also spell a few thoroughbreds, and offer a 'transition care' nursing service for horses discharged from hospital after surgery. So my day is a good mix of riding, coaching, equine nursing and stud work.
Achievements/Highlights:
Winning a Queensland State dressage title was nice, but I think I got more satisfaction from taking my Irish Sporthorse mare 'Donegal Y2K' (she was born on 01.01.2000 !) to Sydney for the Australian dressage championships, placing fifth in the national Elementary title. She was the only horse of the 30 in the Elementary, that wasn't of German warmblood breeding. That performance earned us a spot on the Dressage Queensland state training squad. A year later she was retired to stud and formed the foundation of our current breeding program. She has produced us six beautiful babies by our stallion Casanova. I had previously campaigned her sire, the Irish Sporthorse stallion 'Donegal Double Take', and now I am competing her son 'Courtland's Cadman'. So it has been an absolute highlight for me to train and compete three generations of the one family, with each generation improving on the previous. We are retaining some of her daughters to breed with in the future.
Who inspires you?
Christopher Bartle. As a young man he came fifth in the dressage at the Los Angeles Olympics with Wily Trout, and twenty years later he won Badminton Three Day Event. A true horseman, who can train horses to the highest level in all disciplines. I have been lucky enough to ride in ten clinics with him, and he always inspires. These days he is too busy coaching the German Three Day Event team to international glory to come down under and help us, but he is absolutely brilliant. His book 'Training the Sport Horse' is a fantastic resource for anyone training for dressage or jumping.
What is your favourite thing about instructing:
Seeing my pupils progress.
Favourite saying:
I learnt this from Christopher Bartle: "Feed him and ride him, you never know what he'll turn into". This has proven to be true many times in my career – the most uninspiring youngster, with good nutrition and correct training, can really amaze you with what it becomes.
Ideal Holiday?
I don't mind where, as long as there is something to see and do, and good food. I can't lie by a pool in a resort doing nothing. While my husband is doing that, I want to go sightseeing!
Your advice to someone starting out in any equestrian field?
Get yourself a good coach early on, and they can help you avoid many training pitfalls. Experience is the greatest teacher, and you will learn new things from every horse you work with in your riding life, but you can't go past a good coach to guide you on the correct path.
Your favourite HTL product and why?
Formula White. This should be in everybody's feed room. This natural product has the ability to transform a horse's health. It offers immense assistance to horses with an acidy gut, or with ulcers, like most thoroughbreds in training and after they come off the track. On competition days simply squirt some over the tongue, and there is no nervous poo from the young horses learning the ropes. Love it.